Available Puppies:


We
DO NOT
currently have any puppies available & our puppies are usually spoken for quickly after birth by those on our
wait list
.
The
Puppy Application
is the first step towards earning a seat on our waiting list. We'll contact you about next steps if we assess that we're a good fit and that we'll have a puppy that fulfills your needs within the period you've set for bringing a puppy home. You can see our complete steps to obtaining a Yorkie Puppy below. Thank you for your patience as we worked on this. We guarantee that our pups will be well worth the wait. We appreciate your faith in us to help you find your new canine family member, and we look forward to welcome you to the Setareh Yorkies family.

Planned Litters:
Cindy x TBD Winter 2023/2024 (*Waiting list started)
Gabby x Zooky Due Dec 29, 2023 (*waiting List Started)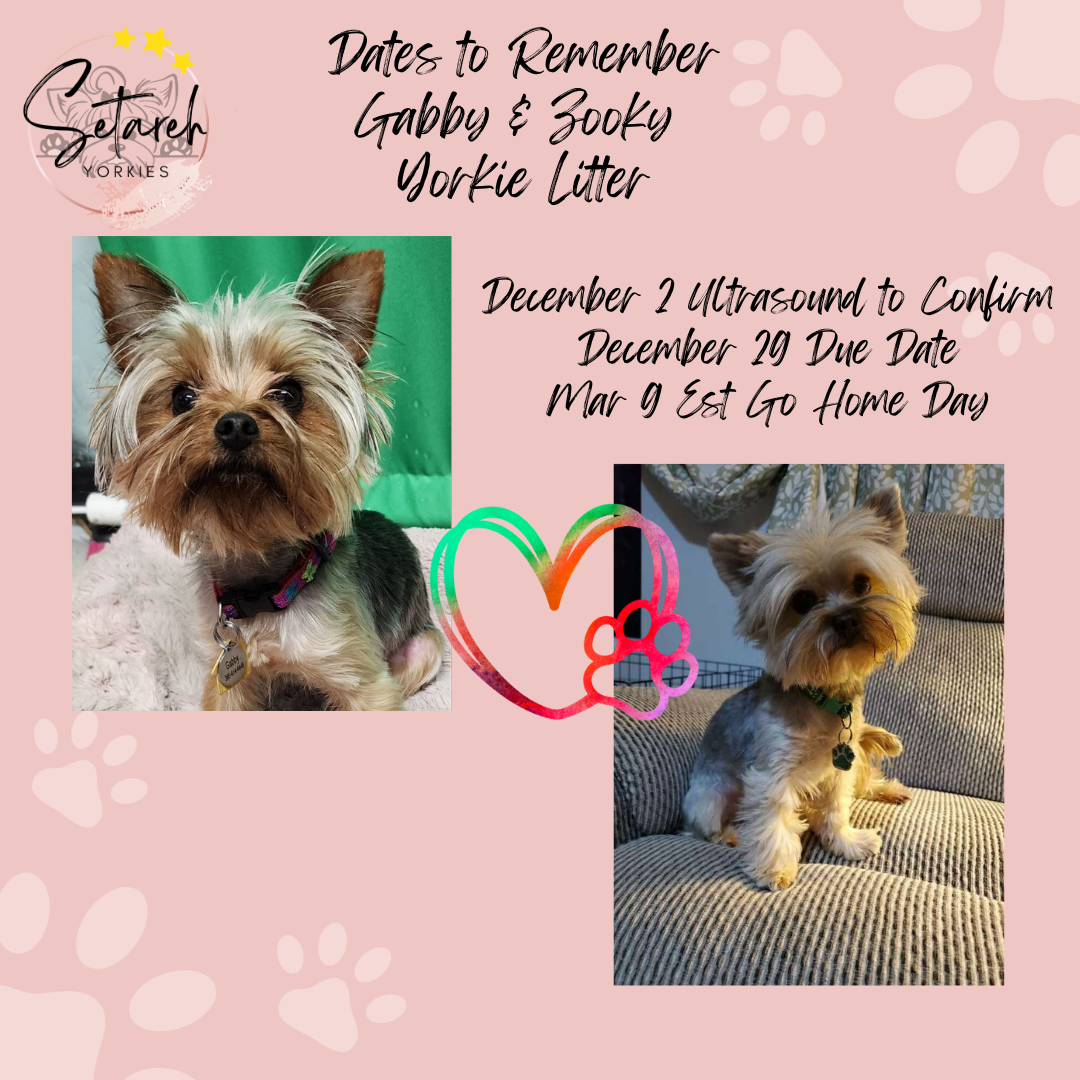 Mother Nature is involved in every facet of reproduction. A female's heat cycle can therefore begin early or late.
Unexpected events can include tiny litters, non-conception, reabsorbed puppies, miscarriages, and stillbirths.
Our welcome kit is designed to help you adjust to your new baby's arrival. It will take your Yorkie around 2-3 weeks to go back to normal, and we want to make this adjustment as simple as possible for you.
Each puppy will leave our home with the following: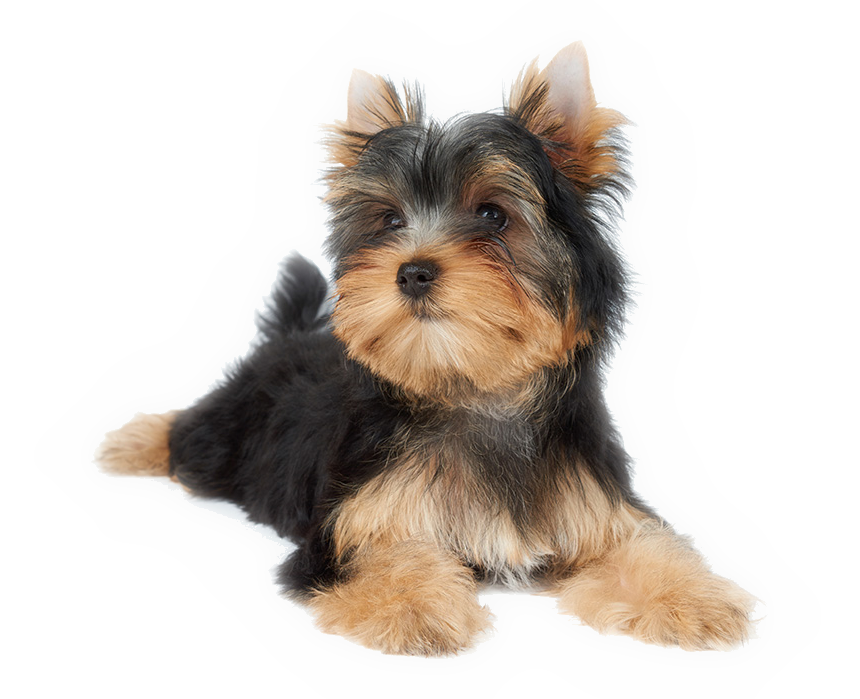 – A sample bag of puppy feed (We recommend Life's Abundance Small & Medium Puppy)


– A bag of dog biscuits/treats that your puppy loves

-- A couple of potty pads

--Roll of potty poop bags

--6 Day Supply of Nuvet Vitamins

-- 30 Days Complimentary Pet Insurance through Trupanion


--A Step-By -Step Guide to becoming the perfect New Puppy Parent

--A Puppy Home guide

– A toy that your puppy is used to playing with


– A new blanket with mom's scent to help with the first night of separation

– A record of puppies vaccinations and de-worming records for your Veterinarian

– Our Puppy Manual "A Helpful Guide for your New Yorkie Puppy"


– A 1 year written health guarantee*With option to extend to 5 years

-- Developmental Pictures of your puppy from birth to 10 weeks


– Welcome Back visits to see us and update calls would be great – more the better!!

Unlike other breeds, Yorkshire Terriers typically have 2-4 puppies every litter, whereas other breeds have 7-12 puppies per litter. Furthermore, because to their tiny size, Yorkshire Terriers frequently experience difficulty during delivery, necessitating an emergency C-Section, which results in expensive veterinary bills. Unlike bigger breeds and even some other Toy breeds, these new puppies are quite little when they are born, and they typically struggle in their first few weeks. The success of these early weeks necessitates a significant amount of time, effort, and money. It is costly and takes constant attention in addition of the training, time, and effort required to grow gorgeous yorkies. The ultimate result is a stunning, robust, and healthy dog who thrives, making it well worth the effort.

Raising Yorkies is similar to operating a daycare, but the children (puppies) don't go home at the end of the day. When you properly grow and care for Yorkies, the expense of rearing them is high. A good Yorkie breeder does not make thousands of dollars or become wealthy; nevertheless, a good Yorkie breeder does it because she or he enjoys it, the breed, and is a real animal lover. I hope this information has been helpful in determining the prices of a Yorkshire Terrier puppy.

We seldom have yorkie puppies for less than $1800.00 due to the expense, time, and effort that goes into rearing these puppies. Please consider rescue or adoption if you are seeking for a puppy in this price range.

I assure that once you own a Yorkie, you will feel that he or she was well worth the investment.



NOTICE: An additional $500 reservation fee is required to hold one of our newest puppies from our litters if it is under 10-12 weeks old and not ready for adoption. Deposits are non-refundable after you've chosen a litter and confirmed your interest. The dog's balance must be paid before the puppy may be released to you. We will have a CONTRACT for you to sign, as well as a HEALTH GUARANTEE and a WELCOME PACKAGE for your new puppy, when you acquire your new puppy.

Most pups must be fully weaned from their mother and leave our house to join yours after a minimum of 10-12 weeks from the day of birth. Some of the smaller pups may take a bit longer. We won't let them out until we know they're healthy and strong enough to survive without their mother. We can give you images and updates on your puppy's development so you can be a part of its development.

All purchasers are encouraged to visit with their puppy prior to making a purchase (after they have received their 6 week vaccinations). If necessary, we may schedule a visit with your new puppy and/or a visit with our available pups to determine which is the greatest fit for you and your family.



Adoption Procedure

To guarantee that our pups go to the most loving homes, we provide significant thinking and attention. Filling out an application is the first step in the Yorkie adoption procedure. We will contact you with instructions to pay a deposit once we have reviewed your application and determined that you are a good fit, and your puppy will be ready to go home at 10 weeks old. To assist you understand how this procedure works, we've broken down a few extra information below.

1- RESEARCH:
I want you to get a clear sense of what we do and the sorts of dogs we have before you apply. Please go through our Frequently Asked Questions as well as visit our Breeding Excellence Standards to learn more about our breeding program. Please visit our Puppy Nursery to see how our puppies are raised. Please read our Expectations page before you apply for one of our puppies. You may also follow us on Instagram, where I share photos from our daily life with the puppies.




. 2) APPLY & RESERVATION FEE


This offers me information about you as a possible puppy owner, as well as an opportunity for you to tell me about your puppy preferences. Puppies are only available to depositors who have been approved. Begin by completing a Puppy Application. We will analyze your application and respond to you within one business day.




Please view our Puppy Selection Process Page, Our Reservation Fee Agreement, &

Our Puppy Contract Prior to Filling out an Application: Click here for Puppy Application Link

Once your application is approved you will be asked to leave a $500 Waiting list Reservation Fee. We want only serious people on our waiting list.





You have a few choices once you've been accepted and put down a $500 Reservation Fee:





1- You can adopt any puppy that is available. We don't always have pups available right away, but if existing depositors opt to pass on a dog, we'll make it accessible to new depositors.

2- You can add your name to our Reservation Fee Master List. Your name will be put to the Reservation Fee master list once we receive your Reservation Fee, and you will be able to pick from future litters depending on your position on the list.




**PLEASE NOTE you are applying for a puppy that will be born Late Winter 2023 Our purchase price is $2500 and all puppies are sold as pets only on a spay/neuter contract.

We have no control over how many puppies each litter will have or what gender they will be, but we will contact each person as soon as the questionnaire is received, and you will have the option of accepting the provided dog or waiting for the next litter.


3- WAIT FOR LITTER ANNOUNCEMENTS: We will notify all Reservation Fee Listees by email if a fresh litter arrives. This email will include a link to further information, as well as a form to apply to be added to the litter's picking list. Applying to be added to a litter's picking place is not a guarantee of a position. These roles are filled depending on Master List seniority.

You can disregard the email and wait for the next litter announcement if you do not want a puppy from the litter we announce.

Keep your mind that some of our Reservation Fee Listee's have certain litters, colors, and genders in mind. So, even if you're in position #20 on our master list, you could still have a chance to receive a puppy from any litter we announce if the people ahead of you aren't interested.

Your name advances up on the Master List each time you pass on a current litter and others ahead of you choose from that litter, giving you a better chance for a higher pick in future litters.

If a litter has four puppies and Listee's 3, 7, 9, 12, and 15 apply, the 3, 7, 9, and 12 will be added to the picking list in positions 1, 2, 3, and 4 for that litter, but Listee number 15 will have to wait for future litters and will be moved four spots up the master list, putting them in position 11 when applying for the next litter.

4- REVIEW Day 60 PICTURES, VIDEOS AND APTITUDE TEST RESULTS. It's crucial to think about your new Yorkie puppy's qualities and personality as well as its appearance and gender. This is why, once your puppy's brain has completely grown at Day 60, we provide a Dog Aptitude Test Result for each puppy to assist us in making the correct matches for our puppies. New Day 60 photographs, a video, and the aptitude test report will be emailed to those on this litter list for you to see before the selection day.



5- Puppy Match Day will occur the Saturday after puppies turn 60 Days Old, after they've had their Puppy Aptitude Test Results.
Click here to read more about our Puppy Selection Process

6- FINAL PAYMENT It's time to pay your final balance once everyone has been matched with their puppy. The puppy contract and invoice will be emailed to you. This bill will contain the cost of your puppy, minus the deposit you previously paid, as well as any additional expenses for puppy transportation.

You can pay the remaining balance by Zelle, Venmo, Credit Card, Cashapp, Paypal, Good Dog, Cash (in person only), Please keep in mind that all fees must be completed before your puppy may go home Click HERE for Payment Page




7- PUPPY HEAD START PROGRAM starts at 8 weeks. Do you want to have a puppy that is Basic or Advanced trained when you pick it up? We offer a 2 week or 4 week program that teaches the puppy the basics such as "Sit" "Stay" "Down" "Come" "No" "Kennel"

Click here for more details and to enroll your future puppy in this program
8- PREPARE:
The Puppies are Preparing for you:
At 6 & 8 Weeks the Puppies visit the Veterinarian for their Health Examinations, Vaccinations, Microchipping, they continue with their daily socialization and our Puppy Nursery Curriculum and Potty Training to the Potty Pad
You are preparing for your Puppy:
**Confirm Travel Arrangements (Are you coming to us to pick up your puppy, Flying in to SLC Intl Airport, having puppy shipped to you?)
**Purchase Supplies. For my Recommendations Click Here
**Sign up for BAXTER & Bella Online Training using my discount code SETAREH
Please begin viewing the videos right now to get ready to bring your puppy home. This will make your time with your new puppy a lot more pleasureable.
**Send Final Payment if you haven't done so already. Click Here for our Payment Page

9- PUPPIES GO HOME At 10 weeks old, our adorable puppies are ready to go home or continue obedience training if they are enrolled in our 4 week Puppy Head Start Program. Please bear in mind that we cannot send our pups home before they are 10 weeks old. It is critical that all pups spend the first ten weeks of their lives with their mother and siblings, and that they be properly weaned between the ages of 7-8 weeks.


No personal visits are permitted until the puppies have had their first round of vaccinations, which should occur around the age of six weeks. This is for the sake of the litter's safety, which includes YOUR dog. Pets are not permitted to visit. Visits are welcome, but appointments are necessary.

Please call/text

(385) 429-0263

or email setarehyorkies@gmail.com with any questions, comments or concerns you may have at any time. Thank you.