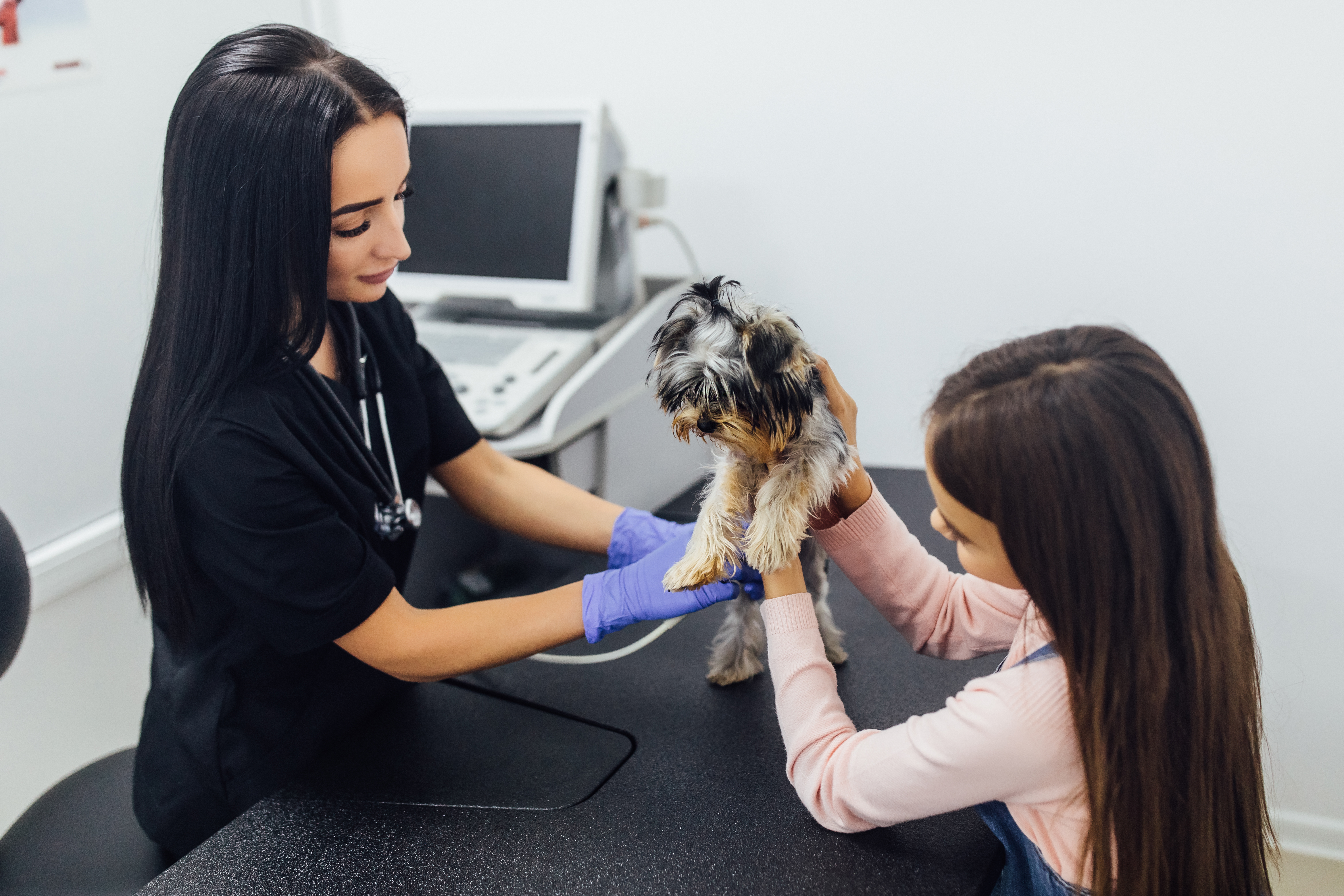 Pet doctor photo created by artursafronovvvv - www.freepik.com

Veterinary Care

Just as we wouldn't over-vaccinate humans, we shouldn't over-vaccinate our dogs. Overvaccination of dogs has been linked to an increase in cancer and other disorders in recent years. In addition, flea and tick treatments have caused severe disease in several dogs, necessitating hospitalization and even death.

While we emphasize the importance of socializing your puppy during their first 16 weeks of life, it is also critical to understand how to do it properly so that your puppy is not exposed to hazardous infections that can make them extremely sick, such as parvo. Parvo is known for killing pups, and it may unfortunately be found in locations like PetSmart, Petco, dog parks, veterinarian offices, and the pound. To be deemed "vaccinated" against parvo and distemper, your puppy will require three shots.

Before you pick them up, they'll get the first two rounds of vaccinations. You'll give them the third round of vaccines when they're 12 weeks old, and the fourth and final vaccine when they're 16-18 weeks old. Your puppy will not be entirely protected against parvo and distemper until he or she has had the fourth vaccination at the age of 16 weeks. So you'll need to keep a close eye on where your puppy travels and what he or she is exposed to till then. We also recommend that you keep the rabies vaccination separate.



Your puppy will have the following vet care before you pick him/her up:
To ensure they are healthy as possible.

Deworming at 2 weeks, 4 weeks, 6 weeks, and 8 weeks old
A comprehensive vet checkup will be performed during the checkup, and the original form will be kept in the puppy notebook when they return home.
The first 2 puppy vaccines in the series of 4 vaccines covering Canine Parvo, Distemper, Adenovirus and ParaInfluenza
Microchip inserted between the shoulder blades.
First Questions to Ask The Vet

Flea & Tick Medication

***Please Note, if you live in Utah, you do not have to worry about Fleas unless you are traveling outside of Utah to an area where they are prevalent. Same with Ticks, unless you live in an area infested wtih Deer, or go hiking/camping a lot you don't need to worry about ticks. In 45 years of living in Utah, I've never had a tick on one of my personally owned dogs.

To prevent flea and tick issues, your veterinarian may suggest medications like Bravecto, Nexguard, Simparica, and Trifexis, as well as generic versions of these drugs. Please bear in mind that the items listed above will void your puppy's health warranty. A rising number of these products are causing neurological problems in dogs, including seizures and even death. When you sign your puppy's contract with us, you'll be asked to agree that your puppy will never be given specific flea/tick products like Bravecto, Nexguard, Simparica, or Trifexis, or generic versions of these medicines.

We propose Frontline Plus or going completely natural with Food Grade Diatomaceous Earth and Wondercide in place of these products. If you believe your yard has fleas or ticks, it's a good idea to treat it with Food Grade DE before bringing your puppy home. The Food Grade DE website has a lot of information on how to use Food Grade DE to treat your yard. Just don't inhale it; it's harmful to your lungs. When using, wear a face mask and ensure that no animals or anyone are exposed to the airborne dust. There are several advantages to going natural.

Learn More about the dangers of Flea & Tick Medications Here: Food Grade Diatamaceous Earth Website Wondercide Website

Trupanion Pet Insurance

The market for pet insurance is quite new. It's comparable to human health insurance, but it's for dogs. Many firms provide pet insurance with varying levels of coverage from which to pick. An attachment for Trupanion Pet Insurance is attached. This firm has a long history and a strong reputation. If you join up within a 24-hour window on either side of taking your puppy home, they will give you a 30-day trial period. We recommend Trupanion because they have the best coverage for our dogs.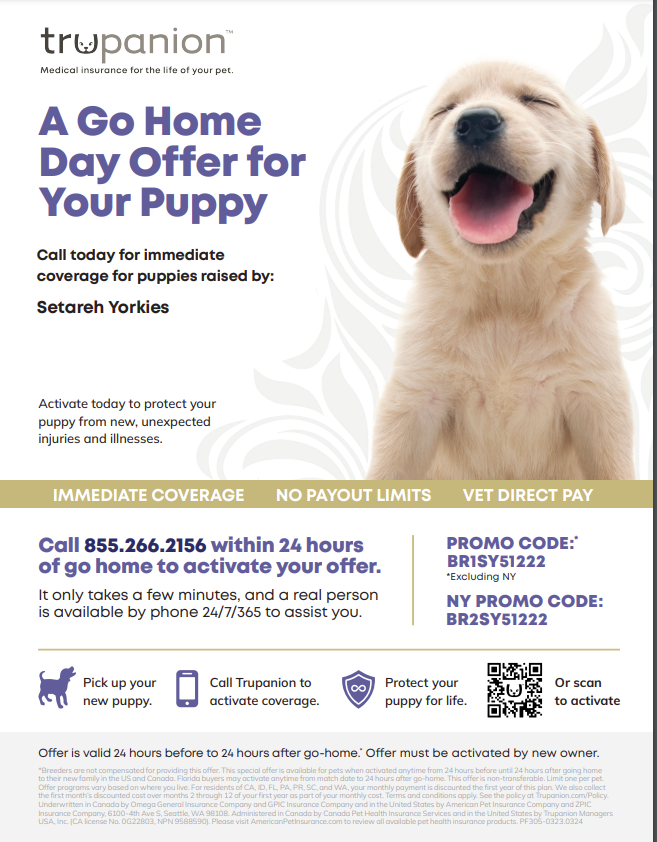 Stay Connected
You might wish to join us on Facebook or Instagram if you haven't already. This is generally the first location where photos and videos appear. There is also a private Facebook page for puppy owners. You may join this group right now by answering a few simple questions. Setareh Yorkies Owners Group is the name of the group. Grooming, veterinary care, training, and a variety of other issues are covered. Our main Facebook page, not the owners group, and our Instagram account are linked at the footer of this page. The symbol will lead you to our pages if you click on it.