Congratulations on your new puppy!
First of all, I want to thank you for your purchase of your new family member. If at ANY time you have questions, please feel free to contact me and ask.
I want you and your new baby to be happy together for many years to come! My e-mail address is setarehyorkies@gmail.com.

Or you may text me at (385) 429-0263 at any time.

Remember that the love you offer your yorkie will be returned to you in kind. Always be tough and consistent,

but keep in mind that this is a newborn and things take time. Never strike your puppy. It will just instill fear, which is the last thing you want.
Here are a few of the topics that I feel are important for new Yorkie Moms and Dads. I feel these issues are important to consider when purchasing a yorkie puppy.
Please make sure you have read our
Homecoming Prep Pages
there is a TON of information on preparing for your new baby on those pages,
When I get home:
Allowing your dog free reign of the house is not a good idea. Your puppy should be kept in a small space, such as a play yard. If he goes exploring a large room or home, they will be unable to locate their food and drink. Please keep in mind that they are little puppies, and a small room to us is a large space for them. Ascertain that your puppy is relaxed and secure.
Well Baby Check Up: If you know when you'll acquire your puppy, the first thing you should do is schedule an appointment with your veterinarian. Your vet visit should take place within 72 hours of your arrival home, so you may return the puppy before becoming connected to it if something goes wrong.

USE SOME COMMON SENSE WHEN VISITING THE VET. When visiting the veterinarian, keep your puppy in a kennel or on your lap. Let it no access to the floor or furnishings, and do not allow it to interact with other animals that may be in the workplace at the same time. Let it no access to the floor or furnishings, and do not allow it to interact with other animals that may be in the workplace at the same time. Allow no one else to handle or pet your dog. Their hands might be carrying viruses that make your puppy sick. Where do all the ill dogs go? To the veterinarian! What is the greatest place to take up viruses or get sick? Naturally, everyone brings their ill pets there. TO THE VETERINARY!! When you get your puppy, it will already have had its first round of puppy immunizations. Make sure you have your puppy's puppy vaccines in order, since this might save his or her life.
We use and recommend Bayview Animal Hospital in Farmington 801-451-2359 for all our babies

Visitors: One of the most common errors people make when they get a new puppy is thinking they have to show it off right away. THIS IS NOT A GOOD IDEA!! Take your puppy out in public, to parks, or to friends' houses. Take your puppy home right away and do all you can to keep it there until it has adjusted to its new surroundings and "parents" and is up to date on all vaccines. Don't put the puppy through any unnecessary stress, such as taking him shopping for new dog attire. For at least a month and until they are completely up to date on vaccines, new pups should not be brought out with you and showed off to all of your friends. They must learn to know and trust their new parent before being bothered by people who want to touch or play with him. After the puppy has adjusted to his new home, it is appropriate to welcome family and friends around, but please do not leave the dog alone with little children.
Public Places: Do not take your new dog on a shopping spree in a Public Park, Petsmart, or Petco. When they're young, this is one of the worst locations to take pups. Before travelling to a public area like this, make sure your dog is up to date on their vaccines. These locations are ideal for viral reproduction.

Hypoglycemia (Low Blood Sugar): Stress and Hypoglycemia: Hypoglycemia is a central nervous system condition that occurs as a result of a lack of enough meals.
Lack of water causes dehydration. When a puppy moves to a new home, misses a meal or doesn't eat enough,or becomes chilly, overtired, or weary from too much petting or playing, hypoglycemia can strike without warning. It is most common in small breeds, but it can also be found in bigger types. Depression, weakness, being shaky or jerky,
the head inclined to either the left or right side, the neck rigid and locked, the body may soon seem the same manner, and the teeth may be clamped are all signs to look for.
This can cause convulsions, seizures, or a coma, all of which can be fatal! Keep in mind that this is just a puppy.Consider a newborn who requires special attention. You wouldn't wake up your infant to show off to your friends or neighbors, so don't wake up your puppy. This is critical for the health of your dog.

Treatment: If a puppy's blood sugar dips, you must act quickly. Glucose levels in the blood must be restored promptly! Do not delay; your puppy's life is on the line. Treatment with some glucose-containing electrolyte solutions administered orally is critical. I use Nutri-Drops or Nutri-Cal because it works quickly and enters into the bloodstream quickly.
The normal dosage is 1/4 cc per ounce of body weight when administered. If you don't have any, mix white Karo syrup with water and apply with a dropper to the puppy's tongue and lips, or just place some on your finger and massage on the puppy's gums. Repeat this process every few minutes. Avoid putting too much in the puppy's mouth because it might choke. If you don't have any nutri-cal or karo, you can use pancake syrup, honey, or other sweeteners. If the puppy's condition does not improve within 10 minutes, call your veterinarian right away! This isn't something that can wait till the next day when the vet opens! Even if the puppy is doing well, I still recommend calling your veterinarian if you have any concerns, questions, or fears. When a puppy's blood sugar lowers, he or she is far more likely to have another episode. It might take weeks to get back on your feet.

Make sure your infant has plenty to eat and drink. Baby food made from beef, turkey, or chicken can be fed in the early stages. To keep your puppy's sugar levels up, make sure he or she eats at regular intervals. I STRONGLY recommend the 1st week you have your puppy you give the Nutrical supplement twice a day no matter what. That is the most effective strategy to attempt to avoid this. Make sure your puppy has eaten before going to bed or leaving them alone for an extended amount of time. Always keep an eye out to see whether they finish part of their meal; don't assume they did.
TREATS: Yorkies are prone to choking, so keep an eye on all toys and chewies. We give the compressed rawhides to our Yorkies. We also love the greenies for helping their teeth
. Pig ears are one of the simplest foods to choke on for Yorkies. Bully Sticks, on the other hand, are something I feed my yorkies.

I give them the ones that are extremely big, like 12 inches or more. I throw them away when they're about 5 inches long.
Toys: Yorkies LOVE toys. We love kongs, and stuffed toys for our yorkies. As well as a 'teaser; rope that's interactive.

Potty Training: What you should know about your Yorkie: Potty training Yorkies may be quite challenging. Because a puppy's kidneys are still developing, don't be too concerned about accidents. It will all come down to how consistent you are as a parent. I normally advise waiting until they are roughly 5-6 months old to anticipate anything from them. They can be taught ahead of time, but regular monitoring is required. However, you should not give the new puppy free reign of the house at first. Inside Potty Training: I am a space rewarder. I gradually increase their area as they begin to use their pads. As a first step, I propose getting them a play yard. You may buy a Superyard or create one yourself at Walmart. I placed the puppy pad on one end of the play yard and the bed and food on the other. When your puppy uses the pads in the play yard 95% of the time, you may give them greater room, such as your fenced kitchen. I am a space rewarder when it comes to indoor potty training. As they begin to utilize their pads, I progressively expand their area. I recommend obtaining them a play yard as a first step. At Walmart, you may purchase a Superyard or make one yourself. On one end of the play yard, I put the puppy pad, and on the other, the bed and food. You may offer your puppy more area, like as your gated kitchen, if they use the pads in the play yard 95% of the time. After a week or two, I start removing one pad at a time until I'm down to one pad in the desired spot. You can give your puppy additional space when they have used their puppy pads in the gated area 95% of the time. This is when the difficult part begins. While your pup is being trained to be released into the rest of your home, you must never take your gaze away from them. You must keep a close eye on them when you release them out of the fenced area. NEVER look away from them because if they pee and you don't see them, they'll assume it's normal and keep doing it If you don't have time to observe them, simply return them to the gated area until you can watch and teach them. It will take some time, but it will be well worth it.
Outside Potty Training: Take them out frequently, especially shortly after they finish eating or drinking; don't wait five or ten minutes, take them outside right away.

Reward them with a mouthful (one bite) of something they enjoy once they have relieved themselves.
Feeding Puppy
: To avoid overstressing the puppy, continue to feed it the same food that was given to you (you will receive a small ziploc bag of food), your puppy is used to eating Life's Abundance Small/Medium Breed Puppy. Never abruptly modify the puppy's food or feeding schedule. As your puppy grows older (age 1 year), you can switch to adult small bites. The smaller a puppy is, the more times it must be fed during the day. Dry food should always be available for little puppies. You must keep in mind that, because to their tiny stomachs, they must feed more frequently to stay alive. Never leave the puppy alone for an extended period of time without food or water. This includes nighttime as well. Small pups must eat and drink during the night to stay alive. Make sure they are confined to an area with enough space for a bed, food, water, and a puppy pad to discharge themselves. They won't be able to go very long without eating, drinking, or going to the bathroom until they are older. They are infants. When you get the puppy home, it's critical to make sure it's eating. I've been feeding them Life's Abundance All Life Stages Canned Food. I make certain that they have access to dry food all the time. I give them canned food as well 3 times a day.
For the 1st week your pup is home we also recommend a small glob or Nutrical to prevent Hypoglycemia twice a day.
Click on the pictures below to order food for your puppy: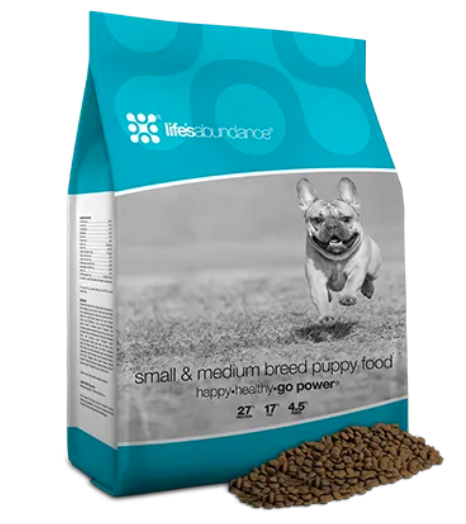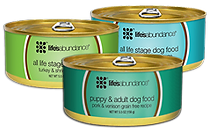 Supplements:
As a reputable breeder, the health of my dogs is my top priority. Proper diet and supplement education is a big focus of mine to help prepare my puppy parents for their pup. I am now using and recommending a new supplement regime! I highly suggest that you not only keep your puppy on a high quailty diet but additionally supplement with NuVet Plus and NuJoint Plus for total body support. Starting good health practices early will help ensure that you have many years with your new companion!
NuVet Plus Promotes
A strong immune system
Healthy skin and coat
Eye and Ear health
Strong bones and teeth
Healthy digestive tract
Cardiovasular health
NuJoint Plus Promotes
Proactive hip/joint/back support
Mobility & flexibility
Healthy cartilage growth
Proper Lubrication for joints
**For your puppy to stay on NuVet Plus it will only cost you $10 a month (they only need 1/2 a wafer a day)
You may place your NuVet Labs order online at Click here to order:
http://www.nuvet.com/864856
or call 800-474-7044. If you are placing an order for the first time, you will need to provide them with my REFERRAL CODE 864856
Haircuts for Coat Care:
The LONG and SHORT of Grooming Your Yorkie Some people want it long, while others prefer it short; neither is incorrect, so don't get worked up over it.
The coat must be long to show a Yorkshire Terrier in competition, but if you aren't planning on exhibiting, you may go with any of the charming little haircuts I've mentioned.
Check over the photos and pick a style you prefer, then show your groomer and, voila, your tiny yorkie is tailored to your specifications.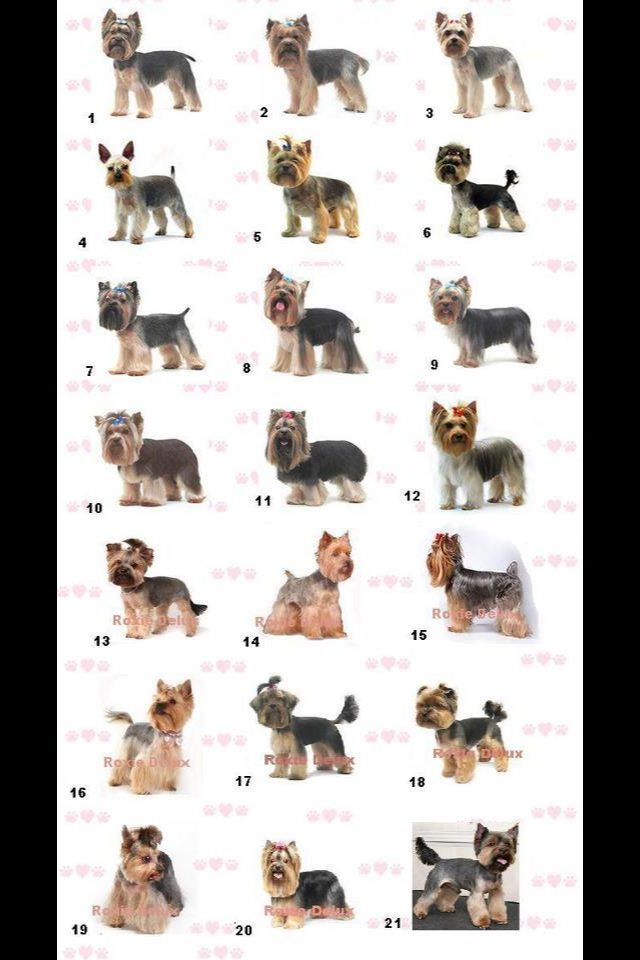 Stylish Paws Salon.
Jennifer is AMAZING with our babies. She is a mobile groomer and comes straight to your door to groom your babies!
Vaccinations and worming
Your baby's immune system does not develop until it is around 16 weeks old. Mom's immunity have safeguarded it through her milk. By the time your baby arrives, it will have had its first two sets of vaccinations and a kennel cough vaccination. All of the documentation will be included in your WelcomePackage. There will be a printout as well as a vaccination record for your veterinarian. Bring it to your first vet appointment so they know exactly what your baby has had and will require in the future. Make an appointment with the veterinarian as soon as possible. This is vital information!!! A Parvo injection is required every three weeks until your kid is 14-16 weeks old. Parvo is present in the soil. Puppies can't detect this because they smell anything, eat anything, and get into everything. If they do, and the injection does not protect it, your kid will become extremely unwell very quickly and might die very quickly!!! Even if it hasn't been outside, you may bring it in on your shoes and expose infant to it. Your puppy can receive adult immunizations at 14-16 weeks and will be protected for a year.When it comes to worming, Heartgard or Simparica Trio are my recommendations. Both are monthly chewables that you give once a month to your puppy. They are available at your veterinarian's clinic. By the time it reaches you, your baby will have received its first dosage. Who wants those pests in their home, after all? No way!!!!!! Please do not use over-the-counter, low-cost products!!!! It has the potential to make a baby sick and perhaps kill it!!!!
Spaying/Neutering:
You have a spay/neuter contract with your new puppy, which means you must get your female puppy spayed or your male dog neutered by the time they are 1 year old
This is necessary not just to minimize undesired litters, but also to avoid dealing with your female going into heat twice a year. Unneutered males might become sexually aggressive and mark their territory within your house. There are other health reasons. Neutering males reduces the risk of developing hernias and prostate disorders, as well as eliminating the risk of testicular cancer. Spaying reduces the risk of breast cancer in females. If done before the first heat cycle, the likelihood drops to nearly nil. It also eliminates the possibility of pyometra (a potentially fatal infection of the uterus). Along with these dangers, your dog will lose the desire to wander in search of a partner. This reduces the chances of it fleeing and/or getting hit by a car. They will be less likely to catch communicable illnesses and will engage in fewer conflicts.